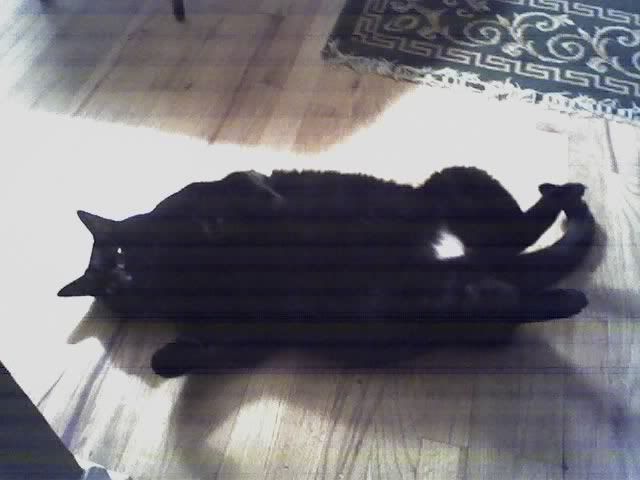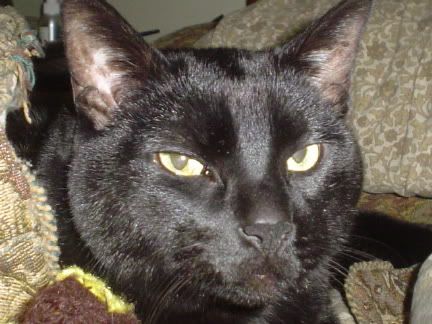 And now, for something totally different, this is Merlin. Merlin is 15 (almost)and, despite arthritis and being a bit pudgy (25 pounds at last weigh in), is still getting around pretty well.
Merlin was my father in law's cat. I will never forget going to visit my father in law and seeing this little bitty black cat in a hamster cage with a can of Fancy Feast... My father in law was not well versed in the care and feeding of a new born kitten, but, somehow, Merlin survived it. We had Merlin's brother, a gray Tabby named Sweetie (because we thought he was a she). They were alley cats and my father in law said the daddy cat was the biggest domestic cat he had ever seen. By the time Merlin was 8 months old he was huge. We were stunned, the next time we saw him after the kitten in the cage incident. A panther like creature (with the little bittiest paws) strolled out of the bedroom. Merlin ate whatever my father in law ate. He is the only cat I have seen growl and chase off a dog 4 times his size over a piece of meat.
My father in law gave Merlin to us the year before he died...when alcohol replaced a cat as his best friend. Merlin came to us demanding people food (no sirree kitty boy) and was not, shall we say "cuddly". I think he missed his daddy. Most days I would find him laying on his back, cooling his tummy like in the picture above. It is almost indecent if you stare at it for too long. In time, Merlin became Leonard's best friend. Wherever Leonard was, Merlin was. When Leonard came home from work, Merlin would stroll up and talk to him until he responded. I swear to God, this cat would talk until Leonard paid attention to him. Krandall (the chair) was purchased in part to make room for Merlin to lay alongside Daddy during afternoon snoozes. They were buddies... and now it seems, again, as if this (not so) little guy is lost. It hurts me to see him wander through the house, crying for his daddy. I know people will think I am crazy but he is not the same cat. He has, in a sense, lost his nuclear person twice. I see him, now, trying to imprint on James. James is annoyed by this and does not appreciate Merlin waking him up in the morning as much as Leonard did. Try as I might, Merlin is just not happy cuddling with me and kneads and head butts and rolls around... finally giving up with what I swear is a sigh. I look at this cat, who is one of my connections to my husband and my father in law, and I dread the day I don't hear that cry anymore. Leonard always promised he would take care of the animals "when the time came". That is the reason why we brought them into the house. I guess it's just another thing affected by his not being here. How different and hurtful this life now is... for us all.