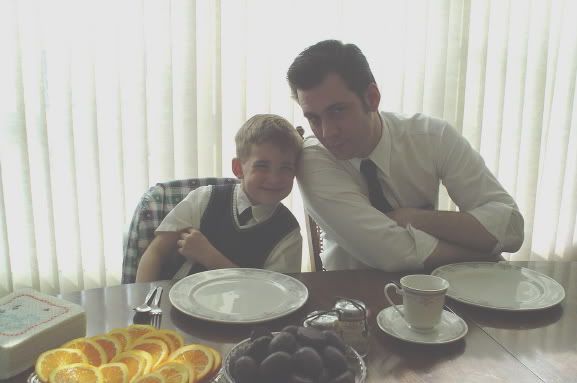 This is one of my favorite pictures of my husband and our son. It was taken at Eastertime and the timeless quality of it made me catch my breath the first time I saw it. My son carries it with him to school every day.
My husband was beautiful. I would find myself wondering when that "in love" feeling faded in a marriage...that "oh my gosh, my stomach just flipped" feeling whenever he came home from work. It is a physical,mental and spiritual ache.
I hate that I cannot help our children. I can only see them through. I hate that I still wake up at 4:30 every morning to get him up for work. It is always 4:30, which would make him laugh because sometimes I used to oversleep. I have yet to do that.
All of things that I did for my husband: getting him up, making his lunch, rubbing his back, fixing his plate at family functions, I did because wanted to...not because I had to. I got teased a lot but it was worth it. I. Love. Him. When you love someone it's what you want to do.
A month or so before my husband died (I hate typing that still) I came across the blog of a woman who had lost her daughter. I cannot imagine that pain. In her writings, this woman shared her very special daughter with all of us and taught me a lesson. To appreciate and be grateful. I showed the blog to my husband and told him how much I loved him, appreciated him and the children and how I could not imagine this happening to such undeserving, wonderful people. It was also a discussion we had back after the airshow and pilot who crashed. We spent a lot of time on regrets, not having them and just being grateful. I did not know then how soon that would be put to use. It is so very hard. I still wake up wondering why I am in the living room and he is not there.
I would give my soul to have him wink at me, or kiss me midsentence, just one last time.