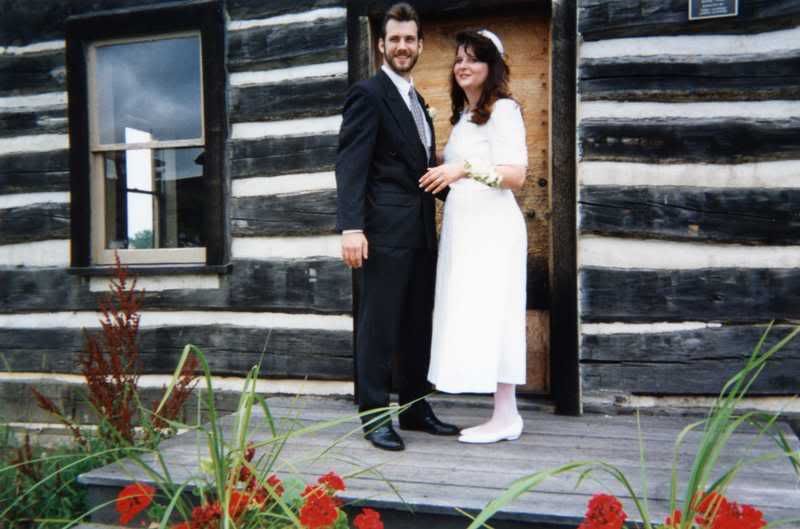 I remember planning our wedding. I think it took us 1 piece of paper, the kitchen table, a couple of beers for Leonard and 15 minutes to do...from start to finish. Luckily, neither one of us was up for the bridesmaids, the church, the coordinating invitations and thank you cards. We pretty much were making a 4 year long situation "legal". This was a man I had known since before he was a man...this was the person I knew I was meant to be with from the age of 22.
Our plans went like this: Justice of the Peace, inviting/bringing along just our parents and then lunch at a local chophouse that has/had been a favorite of Leonard's from the time he was a youngster. Then, maybe, a weekend away and back to life as we already knew it. We picked the date July 19
th
. The reason? Because there were only two
Fridays
in July that the courthouse was open for weddings and we went with the one closest to Leonard's birthday. Why? Because we really didn't care. I know, you are thinking that this is going to be the most romantic story you've ever read...right?
Leonard already had a suit. I needed a white dress. I wanted to be kind of classic Jackie O-
ish
, which is why I went with a linen, tea length one piece (but it looked like two, but that would have been too hard to do). *Advice for casual brides to be-Linen? Not so much a good idea if one does not want to look all wrinkly by day's end. I loved my dress. I loved the pearls, and the simplicity of it. I went to
JoAnn
Fabrics and bought the pillbox type hat, an applique for the top, a ribbon of pearls to border the edge (very hard to sew on with fake nails on the night before your wedding), and some netting, to give it the bride veil-y affect. I already had white shoes. Lucky me. Total cost=$39.00.
While at
JoAnn's
I also bought a yellow rose and all the
thingy's
you need to make a
boutonniere
. I made Leonard's
boutonniere
and he bought wrist corsage's for Nicole and I.
Everything,
plan-wise
, was going along terrifically. Until his mom asked if we could have the dinner somewhere else because she couldn't stand the chophouse. Fine. We just wanted to get married. And, could she make some invitations? Because it wouldn't be a wedding without invitations... Fine. We just wanted to get married. And, could she order a cake from this wonderfully snobby little bakery that she knew...because it really wouldn't be a wedding without a cake (I put the snobby in, of course...because they were TOTALLY snobby). Sigh...Fine. Because we just wanted to get married. And then...she went over the line. Already things were not going as we had planned. My brothers really wanted to be there. my grandparents really wanted to be there...We needed Leonard's brother and his wife there as witnesses. So the guest list grew...by just a bit. I drew the line at my cousins who wanted to come, because we were losing focus, I don't like crowds and neither one of us really wanted to be "on display". It was already getting an uncomfortable feeling to it all.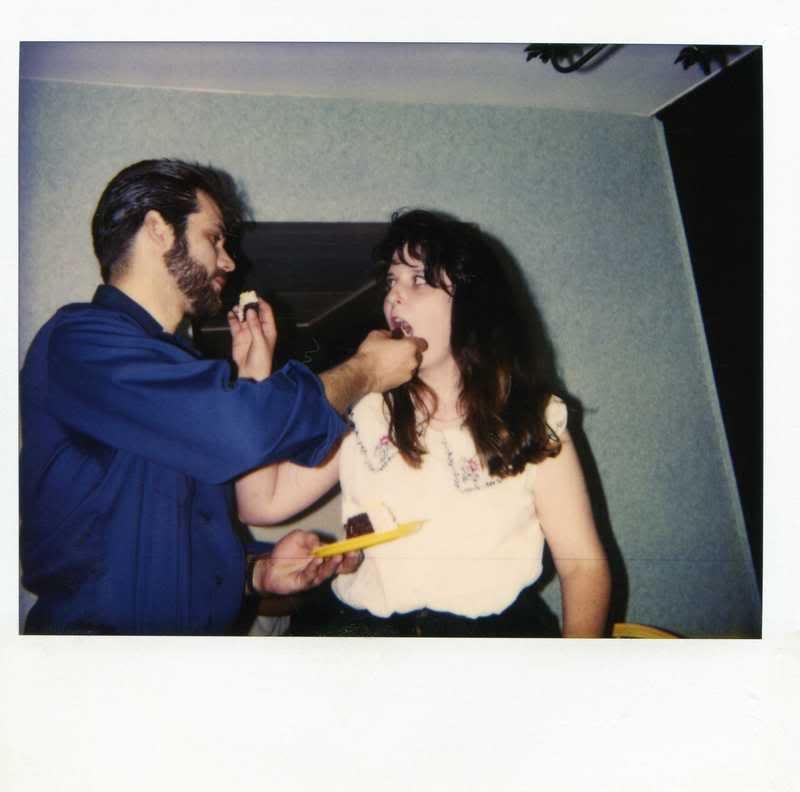 The invitations my mother in law made were really pretty. The funny thing is she made about 50. Hoping we would change our minds about guests, I am sure. I still have all of them. The week before our wedding my mother in law, thinking she was being sneaky, called and asked my husband if he could come over and "help me out with something..." He immediately knew she was full of crap and was probably the hostess of a surprise wedding shower...which we specifically
threatene
...er... asked all of my family and his not to do. Knowing this, Leonard put on his crappiest work shirt and I, from the looks of the picture, apparently didn't brush my hair. We drove up and sure enough...there were all of his family's cars. Our impulse was to keep on driving, but his aunt spotted us and we were stuck. While it was very nice to do, we could feel it being slowly taken out of our hands. We really, really hated the spotlight that was being shone upon us. That and the fact that one of his cousins had horribly bad taste and presented us with some really
erm
... scary pajamas/lingerie/porn movie costumes as a gift. Luckily, the afternoon went by quickly. I did get a very nice set of
Corelle
plates which we/I still use to this day but we were glad to have it over, and I don't think Leonard said two words, or one for that matter, to his mother the entire time. The other wonderful thing about my husband. Look in the picture at how he is feeding me a piece of cake without
smooshing
it into my face. I really dislike the
smooshing
of the cake in the face and he didn't do that. Now, the cracking of the Easter Egg on the head is another story. He tried that once...and only once.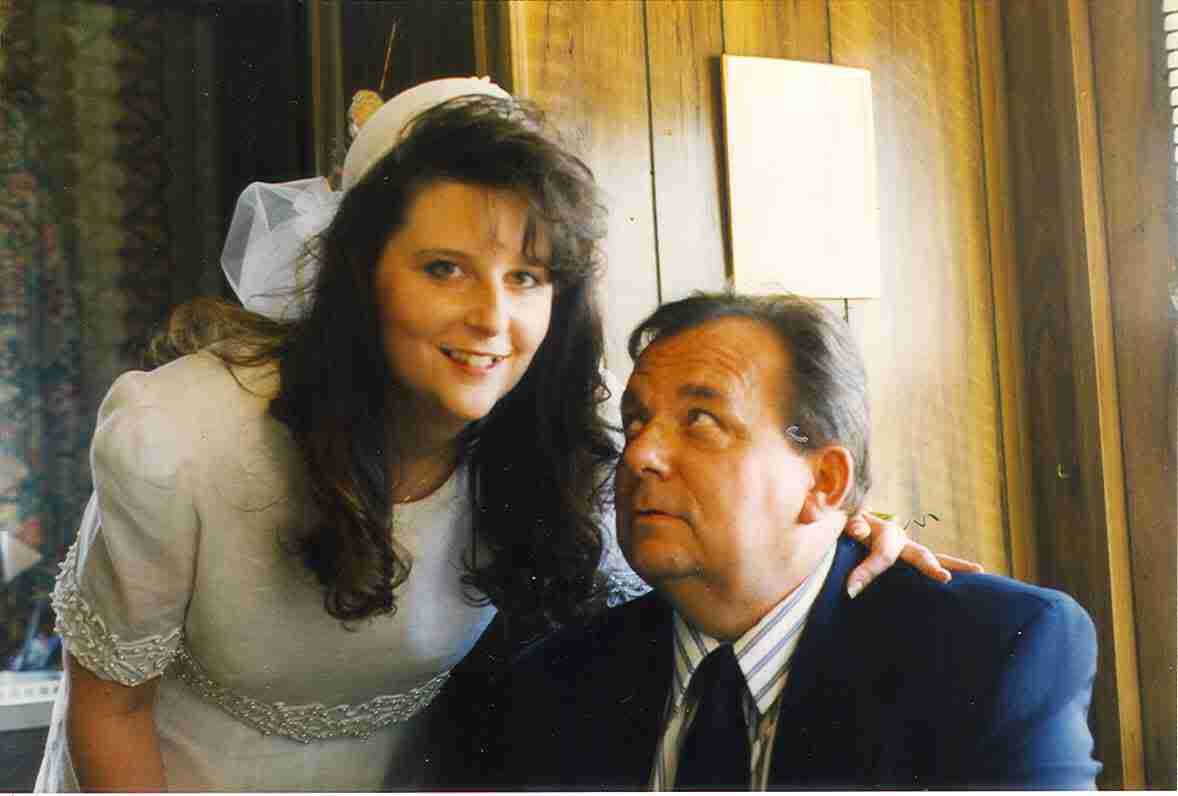 I think that is enough of the story for tonight. One, it seems boring. Two, I am having a difficult time typing it as a history/was/he is not here anymore story. It is hurting. I have have spent a good deal of today feeling lost and I thought maybe this would help me focus. But it is having another effect on me and I think, perhaps, I should go to bed and finish this tomorrow. Football Sundays (because we really loved watching together and giving each other hell about our respective teams -He/Lions and Me/Packers-) are really awful. I can barely get up, deal with the children etc. when there are games on. I am angry that the Lions can do this good without him here to be happy about it. I find myself in a sad/irritable mood and that does not bode well for writing. What I really want to do is throw this computer out the window, scream at the children and walk as far out into the lake as I can. But I won't. I will just go to bed. Like always.
The second part of the story, the actual wedding, will be so very tough to remember and write about. It was supposed to be forever.